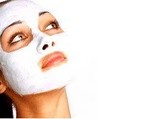 Whether air pollution, climate, neglect or the passage of time, our skin is affected and suffers. To help you recover from such aggression can reasort to the masks, and that within its principal functions are: clean, restore and nourish our skin.
All with the goal of keeping your skin with a smooth and healthy appearance. And for that we have different types of masks.
Cleaning
They are used to absorb fat and impurities from the skin. I leave pores clean and prevent you from pimples and blackheads.
Ideal for normal to oily skin.
Moisturizing and nourishing
As its name implies, gives moisture and other nutrients needed for your skin. Thus, soften your skin, restoring its fresh and velvety.
They are especially ideal for dry and mature.
Exfoliants
Help remove dead cells and impurities from the skin. It makes your face look fresh and bright, also minimizes wrinkles on mature skin.
Although beneficial for all skin types, are ideal for skin prone to fat.