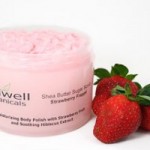 The best ally of the summer is undoubtedly the fruit, which can with its vitamins, its colors and scents to give great comfort to our body. Among the fruits of the strawberry season is among the most loved and even desired, if you enter in the beauty.
So, how to resist to intoxicating and sweet taste of red food that will wrap you in a refreshing and frothy scrubs , pet odors, leaving the strawberry milkshake, the soothing benefits of the hibiscus and softness of shea butter, with the final touch sugar cane can give your skin a pleasantly smooth texture.
The exfoliating Strawberry Frappé is for sale Bidwell Botanicals cost around 14.67 euros.