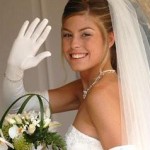 You have talked a lot about weddings. Surely for all of us that day is the most special and we wanting to look gorgeous. This time I will give some tips for your makeup.

First we choose a makeup that is very similar to the tone and our skin; we recommend the matte finish makeups are much more durable. On the forehead, chin and nose can give a touch of brightness to be radiant. For eyes we can use shadows in shades of brown, pink, etc.. With brown eyeliner, outline the eye as close to the eyelashes, may blur. We recommend using brown mascara.

For the lips use long rods, try to avoid gloss because it is very easy to run and certainly that day dares many kisses! Use blush on the cheeks in tone pink, peach, use a tone similar to your natural color.

In nails, French manicure is ideal, so beautiful and elegant you will look, see that the nails are not as long as this does not look good for an event as important as your wedding!