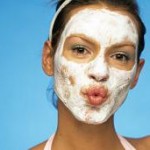 Why do not you take a few minutes to try this homemade mask for the face? It's a great way to freshen your face, giving your skin a more natural care, because we will not use any chemicals but natural ingredients, and economical because you do not need to spend any money.

To prepare this homemade mask for all skin type then you need to teach only two ingredients that you probably have in your kitchen right now: natural yogurt and eggs. In addition, doing it will take less than 5 minutes.

What do you hope to prove?
Need:
2 eggs
2 tablespoons natural yogurt
Preparation. Separate egg whites from yolks and place in bowl. Then, add two tablespoons of natural yogurt. Mix well. Once you finish mixing, apply on your face. Leave for a few minutes. Rinse with warm water and wipe with a warm towel.

Ready! You know how to make this simple homemade mask for the face. You'll notice a moisturizing and soothing effect on your face.