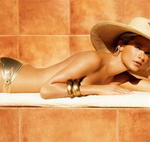 All of us are warned of the danger to our health, specifically for our skin, which means the sun for very long times, at times more hostile or unprotected.
When we talk about protection we do not only with respect to the time of sun exposure but also before and after this. For those who are neglected and spend a day at the beach without taking into account the consequences, there are many ways to alleviate these burns as risky. And as in all things exist these home remedies as well as economic are very effective.
Today we will see some of these recipes from her grandmother, to be able to bring relief to your skin:
- Apply cold water: in abundance, especially on the most sensitive area, if it is a specific part of your body that allow do it with a cloth soaked. The soothing effect will be felt immediately.
- Milk: gauze soaked with cold milk and place over affected area. It also has the same effect on yogurt, which can also be applied as a cream before showering.
- Cold chamomile tea: chamomile mixed with olive oil and heat in a water bath for an hour and a half, let cool and apply to the skin up to three times per day.
- Apple Vinegar: Add one cup in the bath water and take a relaxing bath of cold water.
With these simple natural remedies you will see how the discomfort of burns going faster than you think.