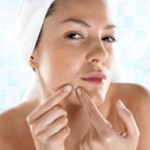 There are many treatments to eliminate or control acne. To select the best treatment must take into account the type of acne you have.
Light treatments for acne or mild
In this type of acne usually come a few pimples sometimes near the period.
In these cases, the acne products that are purchased in stores and keep the skin clean is indicated. The most widely used and effective products are:
Cleanser or toner with salicylic acid
Cream to apply in areas prone to benzoyl peroxide
Creams, masks or cleansers with sulfur
Blue Light Machines
Retinol acne cream
Salicylic acid, Chemical peels, Glycolic, Lactic or other.
This type of acne tends not to leave scars and can be controlled without medical treatment.