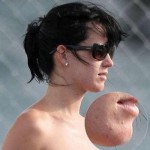 Often being our ideal of beauty to the alleged perfection of the celebrities that we are constantly served up as beautiful. Yet we know that there is Photoshop, and that these Wonder Women are indeed human, ergo they also have flaws.
In this regard, I found a gallery where the objective is focused on the physical defects of some celebrities, some are really ridiculous, others are more obvious but not necessarily negative (e.g. the mouth of Julia Roberts is defined too large, one element that has always helped to give it charm), and others are common to many women (such as the alleged short legs of Hayden Panettiere, girlfriend of Wladimir Klitschko).
Then there's Katy Perry with her skin problems, Kate Hudson with her small boobs, Vanessa Paradis with her hole in between your teeth, Kate Bosworth with an eye for color, Megan Fox with his short nails, Paris Hilton with the black eye, and who knows what might still be down the list.
Perhaps it is also ridiculous to talk about it, but look at this pictures could make us understand that the obsessive quest for physical perfection can sometimes truly grotesque touch connotations, connotations that do not feature at all but the flaws in themselves.