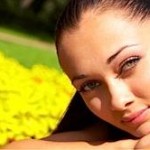 Some days you wake up, you look in the mirror and think about the care that you did last night, you wonder, would not have done any good?

Those faces that appear on the big screen, newly awakened and perfect not think they exist. Before going out with the tired face and sunglasses put you to go unnoticed, tomatoes for a while and see that change.

Wash your face with cold water, stimulate the circulation and prevent swelling of sleep.
Wipe your face with cleansing milk or gel water (if chilly better) and then uses a product with flash effect, and revitalize your skin.
It's been a few minutes and your face already looks like another. It only remains to throw you a bottom-up seamless texture Clarita, blush, mascara and lip gloss. What do you look better?