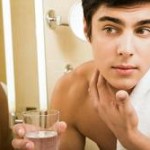 Even today the skin care concern seems to be a stranger to many men. However, little by little, many of them are realizing its importance. As you note every time you can find more products designed for male skin care, many of them promoted by major players, such as the recent case of L'Oreal campaign starring Matthew Fox.

The men's skin care starts with a good cleaning. Through it removes dirt and grease, helping to prevent clogged pores. The skins own grease male makes cleaning is critical. This should be done at least once a day.

The shaves are also a key moment. The shaving cream, gels and creams are the most important products. One of the main considerations when choosing the products is the type of men's skin. Furthermore, it is necessary to use razors good quality and used properly (must be passed gently, trying not to damage the skin).

The male skin is generally thicker and fatter than women's skin. However, due to the shaved skin can become dehydrated easily. Therefore, moisturizers are a product that men should take into account when caring for your skin. A gel or moisturizer should be applied after each shave.

Keep in mind that the male skin care involves only a few minutes a day and helps ensure healthy skin in the present and future.