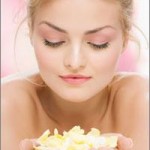 Prepare your skin to shine during the holidays. In India before the wedding the bride began to prepare the skin a few weeks before. That's how we do:

You can use homemade or buy products for the face peeling and exfoliating body scrub.

Morning routine for beautiful skin
Yogurt in the morning
If you want to use natural products every morning or at the time that suits you wear a mask of yogurt. Apply on clean skin and leave for 5 minutes or more. This gives fantastic results if you do it every day or every other day for a week or two.

Aloe evening
Aloe (Aloe) or aloe is great for the skin. Aloe helps to get your skin glowing, and diminishes or lightens stains vanish. You can use it at night every day, leaving her in the face 10 minutes or more.

You can follow both recipes or just one.
For the body
To make your skin look sensational with the necklines and miniskirts exfoliates the skin on your body twice a week and do not forget to put cream every day. The recipe for brides in India is difficult to achieve but you can use any scrub recipe, see recipes on this page: Body Scrubs

If you prefer to buy a body scrub of your favorite brand and use it once or twice a week.

Peels for a healthy, radiant skin
If you prefer the convenience of using a peel, this is the time to do so you have time to act.

If you have oily skin or normal use it twice a week or you can use a scrub once a week and a scrub with granules three days later. Repeat until you reach your party.

If your skin is dry or sensitive uses peeling once a week and do not use the exfoliating granules.