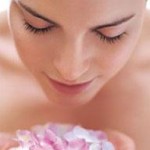 Rose water or rose hydrosol is widely used in skin care. Besides its pleasant smell as aids in skin health. Uses of rose water in skin care. Rose water is suitable for all skin types.

Benefits of rose water in the skin
1 – It helps balance and tone oily skin
2 – Calm, cool inflammation and dry sensitive skin
3 – Purifies and cleanses the normal skin
4 – It helps to tone and rejuvenate mature skin
5 – Inflammation of the skin helps with acne or eczema and heals better
6 – Men and women can use after shaving to soothe irritated skin helps heal burns and wounds
7 – The aroma is soothing and gives a sense of joy and happiness

How to use rose water in skin care
There are several ways you can use. These are some of the most common:

It can be used as a tonic or astringent. It can be used alone or combined with other ingredients depending on skin type. One recipe is:

1 – Oily, normal and acne: Mix 1 cup of rose water with four drops of glycerin and half cup of witch hazel (witch hazel) both purchased at the pharmacy.

2 – Dry and sensitive: the above recipe without the witch hazel.

3 – Sensitive skin, use one

Perfumed water
Put the rose water in a spray bottle and use as spray perfume.

The aroma is nice and smooth. Must remain completely sealed bottle to preserve the scent.

Homemade beauty recipes
You can replace the water in homemade beauty recipes for masks or moisturizers with rose water to make the recipe more beneficial for the skin. Rose water helps balance the pH of the skin.

Headaches, dizziness and fatigue
To eliminate stress and similar evils wet with cold water just a small towel or something similar by removing excess water, spray the roses with water and put it on the forehead and eyes.

Note
The real rose water is the byproduct of obtaining the essential oil of rose. Read the ingredients to buy to make sure you are not buying rose fragrance mixed with water; this does not have the properties that we have spoken.