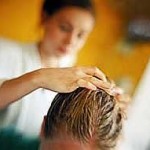 The pimples that appear on the scalp are different from most blackheads and acne is common at any age and sex. The follicles of the scalp quite often become inflamed causing pain, itching and discomfort, since the skin of this area is quite sensitive and difficult hairs improvement and elimination. Are usually like bumps and pustules, but we can confuse them by example with a sebaceous cyst, and it is interesting to see a specialist to determine what we really face.
What are the causes of blackheads and pimples on the scalp?
The causes of pimples that appear on the scalp are very diverse. Many dermatologists have tried without success to determine common causes, but often are caused by microorganisms (yeast, mites, bacteria, infectious, etc.). That plays between fat and protection of the scalp, causing these pimples and pimples. The treatments are equally diverse, from an exhaustive hygiene to medicines, steroids and surgery, depending on the cause and extent of involvement of the scalp. It's another important reason why we should see a specialist dermatologist.
Solutions and treatments to remove blackheads and pimples on the scalp:
In milder cases, we can apply creams and conventional anti-acne products; we can buy at any pharmacy, beauty center, clinics, herbalists, etc.., and apply homemade solutions and herbal medicine.
In severe cases can lead to severe infections reach and dangerous, alopecia , deformations in the affected area, and other serious diseases shin itself, so we should see a specialist dermatologist, whether hospital, clinic or aesthetic professional to examine the causes and symptoms, and determine the most appropriate treatment for each case.
It is very important in removing and preventing pimples and blackheads from the scalp to maintain proper hygiene, hair and skin in the area, preferably with special hypoallergenic shampoo for oily hair. In the first manifestations of grains in the scalp, shampoo or creams can be applied directly to the affected area, to prevent the grain from becoming infected and develop.