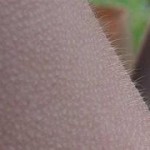 The famous "Chicken Skin" occurs mainly in adolescence, but is no stranger to other ages. Its scientific name is "keratosis" and has to do with the accumulation of keratin on the skin surface. This accumulation does not affect health but for many people giving unsightly.
For those who suffer from this accumulation is recommended that products containing alpha hydroxy acids pick (AHA), more popularly known as fruit acids, which, while very young in the cosmetic industry have shown an excellent job in this type of ailments.
After taking a bath is required to use moisturizers that give soft and not dry out the skin so it must have glycolic acid or AHA. When you begin to be frequent use of these products noticed in the course of 2 to 3 months results.
Do not hesitate to consult your dermatologist decide when treated primarily for the recommendation of special creams and mild soaps that do not damage the skin, oils, special baths, etc.. But in the case of severe than the picture you can opt for home remedies.
Another option is attending a dermatology clinic and makes an intensive treatment that involves removing the grains characteristic of this problem. Then there is the technique of micro-peel, which works on acne scarring and large pores. Sessions last 30 minutes and based on the removal of the surface layer of skin with crystals that rotates at high speed and in the course suck waste.
Optionally, dermabrasion is that it is similar to previous treatment except that the crystals in this case are replaced by diamonds, which increases the price, but the results are very noticeable.
If you have a similar problem, do not despair, industry and science have solutions for your skin.