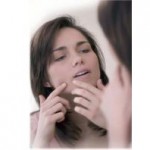 Acne is a skin disease and a cosmetic problem that tortures teenagers. Do you only? No, there are several types of acne and affect people of all ages and sexes. Is called acne and late Bioderma laboratories have conducted a specific study with adult women who have it.
To begin with, is defined as acne which appears late in persons over 20 years.
Other myths that differentiate it from common acne of adolescents (15-16 years) is that they also felt less seborrheic skin (less fat) and usually affects the lower face.
The epidemiological study included 206 Bioderma adult women aged 20 to 52 years and 9 dermatologists.
This usually manifests as late acne breakouts (59%) located in the chin area, around the mouth and jaw angles. To a lesser extent, on the forehead and cheekbones.
Did you know that adult acne may be due to?
Stress.
Hormonal causes.
Inappropriate use of cosmetics.
Excessive sun exposure.
More interesting facts revealed by the study: 52.9% of women suffer from hereditary causes, a 71.9% is persistent acne (suffered from acne before age 20) and, conversely, 28, 1% suffered from acne after 20 years or acne late.
What respondents felt? When asked what factors they believed caused the outbreak of acne responded:
Menstruation (period-menstrual): 81.5%
Sun exposure: 82.8%
Stress: 76.9%
Diet: 42.4%