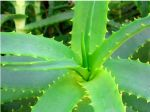 The last time any of us can say that has not heard of aloe vera, every time something happens to us in our skin, whether sunburn, pimples, spots or irritation the first thing that our mothers and grandmothers advise is to use the plant that apparently acts quasi magically solving our problems with surprising speed.
Apparently This plant has healing properties for skin and is a natural and effective antidote against all kinds of skin problems.
How you use this home remedy and natural starting an aloe vera leaf in half, removing the thorns that takes sides, then discover that inside is a kind of transparent gel, the wet pulpy part must rest on the affected part of our skin and leaves it to act.
Then remove and rinse with cool water, you can believe the results are almost immediate and without any side effects.