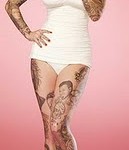 Today many women and men of course, we are encouraged to decorate our bodies, either with perforations, inlays, and other things, now talk about tattoos and their basic care, what to do from the moment you tattoo takes into account that a tattoo is a mark made (or made) for the rest of your life Yeah right, there is the blurring or elimination of the same, but the skin will be checked, even a little, but will be marked. But now only comment you care you should follow after your tattoo, pay attention to these helpful tips endeavor that obviously care for your skin, your tattoo and in much of your health.
1 .- After the tattoo done you should be aware that you can not look, so keep it protected with a bandage at least for 24 hours, or materials which do not break, in this case if you use a gauze keep it constantly changing, as that these are easily contaminated and distorted.
2 .- When you remove the bandage wash the skin, provided with soap, unscented, avoid touching or keep in touch with your clothes to keep the rose.
3 .- Do not touch, do not scratch, do not rub, this is important, because your skin is like having a wound, any rough treatment alters the design, it is obvious that you will itch, relieves with ice and blowing it also help prevent swelling and redness, and do not remove the crusts will make the ink out and over time are gaps in the design, which definitely will not look like what you had planned.
4 .- Wash it with cold water, soap and about 3 or 4 times a day when not rub the skin dry, just reload a towel or lint-free cloth to remove excess water after washing and anointing antibiotic ointment to help healing and prevent infection. Do not substitute for cosmetic creams or Vaseline, this will not help at all.
5 .- Avoid alcohol that will dry the tattoo, causing the skin to resist.
6 .- During the first season of your tattoo avoid going to swimming pools, steam or other similar public places and humid at that time do not benefit your skin, like sun exposure, this is not a rule that many follow to literally, but help is an excellent choice.
Note that taking care of your tattoo is take care of you, and your skin, beauty and naturalness, after a while it still has to keep taking care to avoid sun exposure, if this is necessary it moisturizes a sunscreen at least 30 to avoid future trouble, do not forget that if you follow carefully the instructions to give you the artist, if ill effects persist or worsen, do not hesitate to consult your doctor.