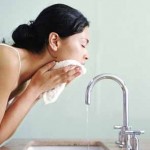 Lack of oxygen can make your face has dirt and black spots or has it look dehydrated.
To properly care for your skin you should do a cleanup to remove all the impurities and most importantly, to moisturize your skin to give it a velvety, bright and full of life.
Facial cleanliness is the ideal treatment to look beautiful. Deep cleaning of the skin is recommended for women who have lighter skin tone with an opaque or have a face acne causing rough to the touch.
To follow the treatment properly, follow these steps:
A gel cleanser and tone your face with light massage to stimulate the skin.
Prepare your skin for easy removal of impurities, steam baths that open the pores and facilitate the elimination of toxins.
Removes pimples and blackheads in a circular motion for removal and free the pores of any impurities.
Wash your face with a soft gel and clean it well with a tonic that has soothing, anti-inflammatory and antibacterial.
To close the pores, heal and end the stress of the skin, spread a purifying clay mask, leave for 20 minutes.
Remove the mask with warm water and let your skin naturally oxygenate while you relax.