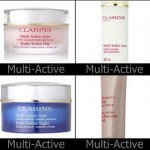 For better safe than sorry, Clarins has launched an anti-aging treatment line aimed at women who are found in the range of 30 to 40 years and must start taking care of "serious" but want to pass the years off and sporting a flabby skin. At that age the skin begins to show the first wrinkles and expression lines, but has not lost firmness.
Multi-Active is the name of this line of Clarins, whose main objective is to end premature wrinkles (which can be the basis for other more profound and lasting). Know something more about the products that make up this line of facial care for young skin.
Multi-Active Day First Wrinkles Smoothing Cream.
Contains extract ambiaty, thanks to which promises to fight professionally the first signs of aging. It's soft, melting texture, non-greasy and absorbs quickly.
Multi-Active Day Cream Gel First Wrinkles Smoothing.
In the same composition as the cream, the difference is that light gel texture makes it ideal for oily skin. As we know, the younger the skin, the natural tendency to produce fat is higher.
Multi-Active Day First Wrinkles Smoothing Fluid.
For greater efficiency, and as an adjunct to the moisturizers. Include SPF 15, a prerequisite for leaving home every morning (to protect our skin against the harmful effects of sun).
Multi-Active Night Cream.
Night Cream is ideal as it works while you sleep, erasing signs of fatigue and stress on your face. Flux and silky texture helps keep your skin looking healthy.
Multi-Active Serum Skin New
The serum has become an indispensable product for all beauty treatment that aims to maintain and rejuvenate the skin. Which is part of the line of Clarins Multi-Active flower extract contains Nepal, offers youth and radiance to skin that evidence the appearance of first wrinkles.
The extract ambiaty main component of Clarins Multi-Active is used by the natives of Madagascar to cure and heal wounds quickly. His regenerative power is very high (working from the deeper layers of the skin) and has antioxidant properties, so this French beauty firm did not hesitate to include this natural ingredient in skin restoration considered young.