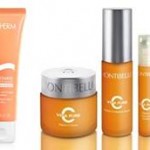 The benefits we provide natural products act on behalf of our health and beauty. Proper intake and utilization of vitamins found in them, help us stay healthy inside and out. Cosmetic firms aware of it, has been around for a long time, being the star of vitamin C .
All the orange identify with this wonderful vitamin, but may know little about all the wonders it can do on our skin, Vitamin C is the active antioxidant par excellence, which strengthens the defenses of the skin and stimulates regeneration. Its use in cosmetics becomes essential in the following cases:
To fight wrinkles, because it neutralizes free radicals and promotes the formation of collagen, this tightens the skin.
If your skin is off, because it provides light and allows recovering their vitality.
To unify the tone, thanks to its depigmenting action that inhibits the formation of unsightly spots on the skin.
Among the most popular products that incorporate our reach vitamin C in the composition include:
On the skin of the face:
Total CxP Lifactiv Vichy. A firming serum that provides luminosity to skin from the first minute, also has a lifting effect.
Eternalist Revitalizing Nourishing Elixir. With an applicator that gives you the exact dose that your skin needs. This intensive care product is designed to help very dry skin to regain moisture balance, losing and gaining light wrinkles.
Straightening Elixir Nectalys of Galenic . Vitamin C in their composition, helps fight and clear signs of fatigue significantly in the face.
Day Treatment and Flash Recharge Concentrate line Biotherm Multi Recharge, hydrate, revitalize and protect the skin 24 hours a day, eliminating fatigue traits.
Vitamin C Cream Cream Vita Pure line Montibello C helps to stimulate the production of collagen, which helps maintain firmness and youthful appearance of skin.
In facial capsules (pods), the Energy Radiance Serum Oriflame, evens skin tone, diminishing imperfections.
On the skin of the body:
Bottega Verde, vitamin C used in products for body care, moisturizer and deodorant. Both with a refreshing and delicious aroma , because the biological orange extract is one of its main components.