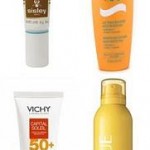 We all know that we protect our skin from harmful sun damage caused by the emission of ultraviolet rays, we must apply throughout the year, and even more in the summer, balanced filters specific products, photostable and widely solar spectrum.
In addition, we follow the recommendations of dermatologists and experts in cosmetics, such as not overexpose the sun as it is shown that between 50 and 90% of skin cancers as a result, the amount of blocking that we applied to the face is approximately 3 cm in diameter, half an hour before leaving home and repeat every two hours.
Also avoid the sun between 10 am and 4 pm, as this schedule is more aggressive, and finally remembered that to fully protect from UV rays is essential to resort to using wide-brimmed hat, sunglasses with UV protection and umbrellas.
And how in the world of cosmetics everything is renewed, increasing the benefits of the products with innovative components, then we present the blockers and sunscreens with healthier and more effective ways to protect your skin from the face and body.
Super Ecran Solaire Visage Sisley SPF 50. Its delicate silky film effectively protects the face, neck and décolleté.
Sun Sensitive Skin Milk, Biotherm, with SPF 30. Suitable for sensitive skin. Its soft texture melts completely on the skin of the body and face, avoiding allergic reactions.
Capital Soleil Vichy. Its dual action of antioxidants and minerals, are responsible for defending the capital genetic and stem cells, while protecting your skin from sunburn.
Body Spray of Clinique . Emulsion is smooth, free of oils formulated with vitamin E and sunscreens. With a moderate protection factor, SPF 25.