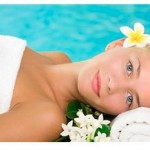 You never felt disoriented to the many proposals offered by the market cosmetic? Because how do you know which ones to use and what to do without? Well today is no need to spend a fortune to look after properly. In fact, cleansing and moisturizing are the magic words that are enough to keep skin nourished and young, and it is enough to pay attention to a number of commodities should not miss in our toilet.
A good cleanser, an eye makeup remover, moisturizer, a scrub, mask, cream around the eyes, sunscreen and hand cream are the basic products to keep our skin in optimum condition. It is imperative, therefore, spend a small fortune on our toilet because the products mentioned, some of which, such as masks and scrubs can be home made, sufficient to meet the needs of the most demanding skins.
First, remember that the skin must be clean to breathe properly and rehydration needs to replenish its natural oils. A basic routine that includes these elements will be to clean skin morning and evening with special attention to hygiene around the eyes. The moisturizer for the face and neck as a moisturizer to the area around the eyes should not ever miss the start of the workday, without forgetting that the moisturizer should also offer adequate sun protection. These basic cares should be added an exfoliation and the use of a mask at least once a week.
Against Attack, Hydration
The loss of moisture from the skin is associated with age. After 25 years the water content of the epidermis begins to disappear, a process that is accelerated by external aggression such as snuff smoke, alcohol and poor diet and by staying in excessively cold or hot. The importance of these external factors is such that often even younger skin may show early symptoms of dehydration such as dryness, premature wrinkles, redness and pimples.
The cosmetic industry offers numerous solutions for dehydrated skin. Moisturizers are essential but not all are equal and have similar mechanisms of action. Some of them contain hyaluronic acid, which prevent water leakage from our cells and those that act like sponges attracting external moisture and passed onto our skin, not to mention those that also incorporate in composition different vitamins, ceramides and oils. The best way to find the right product for each person is to try different options in response to your skin type.
Moisturizers are used daily, morning and even-even at night without incurring forget that once a month should go to a treatment center to implement a thorough hydration. Are well-suite to complement emulsions and seaweed treatments and oils rebalances the hydration state of tissues.
Do not forget that although the skin of the face is what is most exposed to environmental assaults also the rest of the body suffers and accuses lack of moisture, especially with soaps and gels. It is therefore advisable to treat the body with body lotion to return the lost moisture.
Some people choose to use nourishing cream that restores the skin deficit substances. The most effective are made from protein collagen that keep skin smooth and elastic, and those containing nanospheres, tiny particles that release minute active ingredients resulting active throughout the day.
Clean Skin: Exfoliates, Tonics and Cleansing Milk
Aesthetics professionals recommend cleaning the skin of the face at least twice a day but no longer as excessive cleaning may dry the skin. Traditionally it has been mission astringent tonics address this task by eliminating waste from cleansers and help close pores. Today, modern cleaning products are so complete that the tonic has ceased to be an indispensable product while leaving a pleasant sensation of coolness on the skin that many people appreciate.
The cleansers often contain in their composition calendula extract and other similar active ingredients that promote asepsis, stimulate peripheral circulation and have anti-inflammatory properties. Cucumber extract appears frequently in their composition for their quick action and moisturizer, making it one of the substances most suitable for sensitive skin and irritable.
On the use of exfoliating creams that remove dead skin cells they should be used once a week in normal skin and skin three times too fat. Those with sensitive skin should use them less often and if the market peels are too aggressive or exceed your budget you can always rely on natural scrubs made at home base of lemon, apple or papaya.
Thus, steaming on the face and neck is one of the most classic to purify the skin and open pores. And is not the only advantage of this traditional method as it also relaxes the muscles, stimulates the glands and the lymphatic system, increases circulation and clearing the nasal passages. Combined with herbs, the application of steam is much more simple and effective. Of course, dry or sensitive skin should apply steam of lavender, chamomile, geranium and rose, the normal skin, lavender, rosemary and mint oily skin get the best results with vapors of rosemary, lemon or eucalyptus, and Skin with acne is highly recommended green tea steam or thyme.
Masks: Required For All Skin Types
All skins need to be applied frequently masks, the effect reaches deeper levels than the cosmetics we use regularly and help normalize the skin after cleansing while providing a relaxing and regenerating effect.
The first thing you need, as with other beauty products, is to identify the needs of the skin. Before using the mask, your skin should be clean. Next, the cream should be rubbed with rotary movements in the direction of the muscles of the face and always upwards. 10 to 15 minutes of application sufficient to obtain the desired results. Relax for their maximum effect and then remove the mixture with tepid water.
Although the market offers many types of masks designed for any skin type, you can make your own homemade face masks from fruit or vegetable substances. For example, mashed banana masks, those of papaya, apple pulp or melon liquefied benefit all skin types, particularly those who need an extra supply of moisture.
Forgotten Areas: Neck and Neck
There are still many people overlook the skin care neck and bust area adjacent to it is even very sensitive areas of aging and which clearly show the dryness and the horizontal lines that reveal the over time. Because this premature aging process in many cases increased by the use of alkaline soaps and excessive sun exposure.
The neck muscle is very prone to lose elasticity due to its low fat content and few sebaceous glands that make the skin dry and promote wrinkles. The home day care is essential for this reason often includes exfoliate those areas to remove dead cells at the time of bathing, apply moisturizer twice a day with upward movements, alternating hot and cold baths to strengthen connective tissue wear masks and moisturizers. The renewed interest in cosmetic products as sensitive to these areas reminds us that the skin care does not end at the chin and the impurities and drying are also evident in the neck and chest.
The Delicate Eye

By extreme delicacy we must pay special attention as we face a high risk area which can easily appear dark circles, bags and crow's feet.
For the prevention of wrinkles around the eyes should be treated with light cream not too fat. But if the bags have already made their appearance it is best to refrain from using creams that could cause the opposite effect we want and opt for products in gel form, drains. And if that wrinkles are installed most effective moisturizers are made with collagen or hydrolyzed proteins that act as a protective barrier against external aggression preventing moisture loss.
Stress is also an important factor in aging around the eyes. Hence, a healthy diet and enough sleep are essential.
If you feel exhausted, products based soothing calendula; mallow and chamomile help fight tension and heaviness of the eyelids. And do not forget that this is a highly sensitive area which is lower epidermal thickness should not use exfoliating products in it. It is also important to use a quality eye makeup remover, usually little fat and aqueous formulations that are well tolerated by the eye.
Many of them contain chamomile extract which increases its decongestant and soothing properties.
The appearance of unsightly dark circles also depends on the fatigue and age, genetic inheritance. Often try to cover them but only got worse they look. So the Cover dark circles be used with discretion and always in our skin tone. In the market there are alternatives, such as liquid light reflectors that hide dark areas and plant extracts that activate blood circulation. Cover Dark Circles tone should be slightly lighter than the makeup and you are advised to apply the concealer over the area to try and blend then with your fingers or a sponge for a more natural effect.
Facial Treatments: A Strategy for Each Problem.

Wrinkle and deep hydration:
- Cleaning.
- Peeling.
- Firming and toning massage.
- Mesotherapy facial.

Rejuvenation:
- Cleaning.
- Skin oxygenation.
- Transdermal patches.
- Peel and firming massage.
Anti Acne:
- Deep cleaning.
- Repetitive and superficial peels.
- Treatment Antiseborrheic.
Dark circles and bags under the eyes:
- Manual lymphatic drainage.
- Transdermal patches.
- Masks periocular.
Homemade Sour Cream
Pumpkin face mask for normal to dry skin
Ingredients:
2 tablespoons pumpkin pulp.
1 egg.
1 tablespoon milk.
Application:
Mix all ingredients and apply the paste on the skin previously neat. Then relax and let the cream sit for about 20 minutes. After Rinse with water that is neither too hot nor too cold.
Herbs for Skin
Chamomile: soothing natural eliminating inflammation and stimulates the regeneration of the epidermis. Chamomile tea is particularly recommended as a facial tonic and compresses applied over the eyes.

Tea: anti-inflammatory, fights irritation and is rich in substances that prevent oxidation. In recent times is increasingly used in the cosmetics industry and appears as an ingredient in many creams, in particular green tea is one that contains more antioxidants.
Mint: astringent, flavoring and deodorants that make frequent ingredient in many beauty products.
Lavender: One of the herbs used in cosmetics. It relaxes, soothes and promotes cellular regeneration. Can be use directly on the skin of the face in the bathroom for the care of the body and as an adjunct to hair hygiene.
Prevent Eyecups
- Reduce salt intake in your daily diet as it helps fluid retention under the eyes.
- Maintain the quality and number of hours devoted to sleep. Lack of sleep is reflected quickly in the form of dark circles and small bags.
- Apply cold compress of chamomile tea to fight inflammation.
- Gels: if the problem is acute not hesitate to use special products for this type of situation.
Almost all cosmetic lines, drains offer gels that often contain natural ingredients such as arnica, chamomile or marigold.
- Use eye masks, both available on the market as they prepare at home, for example, potato-profit status of this sensitive area.