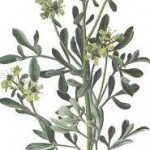 Acne is a problem that affects many (many), so today we bring you a recipe that is simple and economical because it only has one ingredient: the rude. The smell of this plant is very strong, but it is worth the effort!
These are the steps to the recipe for a rough mask for acne:
- Get rue leaves and mash until cream form a paste.
Once formed, the cream applied to the face avoiding the eye area and mouth.
"Stop working about 20 minutes.
- Rinse with warm water.