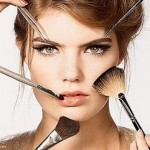 All women, before going out, we look in the mirror to see if we care lavished on our skin and face have had the desired result.
But what happens when early in the morning, we headed to the office and do not have much time to stop and analyze our image or perhaps (something that happens to me often) the light inside of our house does not give us a real vision?

In the rush to get out at the right time often do not realize that I've made a "mistake" in the make-up, only I notice when I looked in the mirror or car passing through a window. Fortunately, I learned to solve quickly and effectively with you tips as follows:

First, you must bring your toiletries bag containing a small cotton swabs or swabs, brush (kabuki type, fits all), thermal water, moisturizer (a small sample bottle).
If you put too much blush or flush and you have no time to remove makeup, pass a clean brush to remove excess. If you want to tone down a blush cream or gel, apply a little moisturizer with color in her cheeks.

If you realize that makeup is excessive, with a clean brush gently removes excess on cheeks, eyes, etc.., then clean the brush with a tissue and repeat. If you had a brush in hand, you can use the sponge pressed powders.

If your face looks broken, either because you put too much base or because the quality is not particularly good, and makeup and take many hours, then resorted to the following solution: spray your face lightly with thermal water , (I I can not take it with me), then smooth the edges with a sponge (too wet) and blend well.

If you have problems with your eyeliner (almost always happens!), Then use a bit of your foundation or concealer. Apply to the area you need to correct a small swab and well distributed. if you have to tweak the shadows, do it before you finish applying your eyeliner.

Certain shades of lipstick, especially those with heavy pigments, are difficult to remove and can sometimes spill over the corners of the lips (which gives a sloppy appearance.) To remove them you can use eye makeup remover or almond oil.

The lower lashes are run more easily than the upper. To correct this, do not touch! Use this trick infallible clean mascara wand with a tissue and apply it from top to bottom and bottom corners to the outer lashes.

If you paint you overdid the eyebrows, the swab will be your best ally. Review it in the opposite direction to hair regrowth to clean the excess. And remember: never use your finger, because that add fat and end up spreading the paint over the eyebrows.

Note that most times when we try to hide something with translucent powder, terms highlighted more! In the afternoon, when we are those unsightly shine, we must be very careful not to load the makeup. Clean the brush with a tissue and use it to pass by your face again, and so collect and remove any excess dust may have.

Did you use too many shadows? Okay, because it has a solution. Take a brush of shadow, wipe the excess powder that may have and review it as often as necessary until your eyes are perfect, as you like. Apply a little lighter shade also helps, but do not forget to blend well to melt the two tones.
All we can implement these simple tips, but surely you have one you use is always saved, right? Do not hesitate to share!