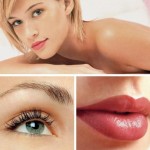 Who does not like leaving the house wearing a good look, and to have "best face", women turn to the makeup. But what happens when we do not have time or if we go for a short period (the supermarket, take the kids to school, etc.). And just as we want to feel beautiful and appropriate for the occasion?

Express makeup is the solution, but of course, be one that includes only the necessary products for in record time, to look in the mirror, we find an improved image of ourselves, and with the least amount of makeup possible!

Learning a few easy techniques will help us to feel confident that we are better every time I walk out the front door. Makeup does not require much time, but it offers instant gratification, so I want to share these two examples of makeup (in two and five minutes) to help you see regia at all times (I have tested and do work!).

Make up in just 2 minutes!

To do this you should invest in beauty products that are versatile and at the end will win (in time and money), because with one you can make different tweaks.

Use a creamy concealer to the area under the eyes, and apply with your ring finger evening it out to the sides of the face.

Use a moisturizer with a base color or natural finish, better if it includes SPF 15. You'd better apply it with your fingers to a smooth finish and fast).

With that you can apply blush on both cheeks like the lips, add color to the cheeks and mouth. If you want a special touch, add gloss to your lips.

Make up your eyes. A fast corner with a curly eyelashes or a bit of mascara on the tip of the lashes will give an attractive finish to your look.

Sophisticated in just 5 minutes!

Soon you will create a perfect image to go to a meal, an important work appointment, etc..

Here you leave my tips!

Apply concealer stick in the lower eyelid in areas where need, even it out with the help of the fingers.

Use a smooth natural base (are the easiest to implement), and employs translucent powder to set and give a professional finish to makeup. A large brush (type kabuki ) will let you perfect in seconds.

To add color to your look, apply a light layer of eye shadow in a neutral color (dark is beige or gray as indicated), and then draw a darker line in the crease of the eyelid). Blend.

Unless you have a steady hand experience, if you want to avoid accidents, it is better to opt for a pencil instead of eyeliner or liquid eyeliner. Use a soft eyeliner pencil tip and make sure it's always sharp. After a sponge blends, Revlon has a great product that is two in one.

A gloss will give you shine colored while highlighting your mouth.

To finish, apply a blush or light pink blush or salmon, and blend very well for not notice the lines, for this you can also use the kabuki brush.

The tutorials Isasaweis also brings practical solutions to these occasions. This teaches us an express make-up day, and I love it because no one likes her to apply foundation with a brush. You can also practice to achieve accuracy in a few seconds and replace the sponge or fingers, because the finish is more natural!

Try them at home; you will gradually refine these simple techniques. Tell us how it went with these makeup express and share with us your beauty tips … and is that women's beauty secrets are super important!