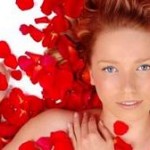 Our skin is an important reflection of our health. See a person with a damaged skin is not always a symptom of old age, but behind it there may be a bad diet, lack of nutrients, smoking, lack of physical activity, among many other factors linked to a healthy and fulfilling life.

As the protective organ of our entire body, the skin is exposed to many damaging agents. The famous free radicals are some of them, and if you want healthy skin is important to take precautions so she will not be affected because the skin care are never in vain.

Everything you eat in your diet greatly affects your body. As the skin the largest organ of our body, is a fact that requires a significant amount of nutrients to be healthy and in good condition. That is why good nutrition is a very important ally to the skin.

Basically there are three nutritional elements that the skin needs to be beautiful and healthy: coenzyme Q10, vitamins and minerals. These three agents can get them with balanced diets in which, of course, are including fruit and vegetables.

But there is a good food spot that can be helpful when caring for your skin: the yogurt. The contribution of yogurt in the morning and at night is critical because it gives the skin a dose above key elements highlighted.

Start your day with yogurt, eat a balanced way, take plenty of fluids and exercise enough, you'll see that your skin will thank you.