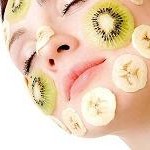 Yes, the black spots are difficult to remove, but with this mask you will see them disappear, try it!

You only need to mix a tablespoon of natural gelatin powder, juice of 1 / 2 lemon and two tablespoons of warm water.

Whisk until no lumps or trail immediately spread over the affected areas, such as the nose and chin, waiting to dry for about 10 minutes.

As form a kind of plastic film, off with your fingers draw the nasty blackheads and purify the astringent citrus.