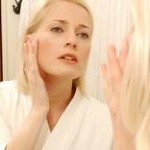 One of our favorite recipes, a simple and effective Home Dry Skin Scrub, not wants to miss.
Your benefits: Remove dead skin cells so moisture can penetrate, in addition to moisturize, protect and heal the scars and acne. Not bad!
Ingredients:
2 tablespoons organic olive oil
Organic honey 1 tablespoon liquid
1 / 4 cup organic cane sugar
1 container small dark glass (not want to be plastic, because the glass prevents the oil from oxidizing and losing properties)
Preparation:
Pour olive oil into the container, then add the honey and mix well.
Then pour sugar just as he is adding to the mix.
(Approximately 1 / 4 cup shall, until the desired consistency of a thick scrub).
Use:
Apply to freshly washed skin, massaging gently.
You have sensitive skin; rub the mixture on your hands before applying.
Finally, rinse with warm water and finish with a touch of cold.
Final Tips:
You can complete the treatment, with a natural moisturizing quality.
If there is some mixing, place in a dark place, like the box of medicines.