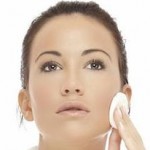 One of the most terrible enemy in terms of skin care and believe it or not, the main cause of the appearance of pimples and blackheads, especially on the cheeks, chin and nose.
A formidable adversary, but not invincible thanks to these captive natural tricks to close the pores. Try it!
Start with the best ally in combating the open pores, daily cleaning, one rising and one just before bedtime. And then, a few simple home tips, which can choose their favorite
Apply an infusion of iced tea in the affected area, aided by a piece of cotton. 10 minutes a day will suffice.
Place tomato slices on your face and leave them there for 10 minutes, then remove and rinse.
Lemon juice is also very good to absorb excess oil, preventing contamination and infection of the pores. Apply with cotton wool, let dry and then rinse.
Blend lettuce leaves with little water, leave the mixture in the frigidly cold and once, apply it twice a day in the face for 10 minutes, then rinse.
Prepare an infusion of four sprigs of fresh parsley in a glass with water, cook for 10 minutes, let cool and then apply with a cotton swab over the area of Open pores. (This mixture can keep up to two days in the refrigerator.