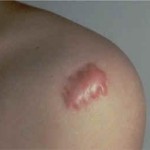 What are keloids? These are injuries that affect the skin and which are formed by the growth of scar tissue extravagant in the area of skin injury are mostly caused by surgery, traumatic wounds, vaccination areas, burns, acne, chicken pox, scrapes or a small injury.
Over time, keloids tend to flatten and become less noticeable but keloids that often affect the mobility of the limbs, causing conflicts with aesthetics.
When exposed to the sun is a keloid is stained dark steadily, also may itch and cause discomfort in the beginning of training.
How is this injury?
Keloids are not treated. In situations where mobility problems and aesthetic can go to the "cryotherapy" that involves the application of cold by external pressure, intralesional corticosteroid injections, laser, radiation or surgical removal.
When these marks are treated not appear in the area but can not be excluded that appears further injury, or severe even bigger than before. Are unpredictable in their characteristics.
When the body is exposed to sunlight to prevent the keloid brings start taking different dark colors, we recommend the use of adhesive strips covering the area of injury or the use of sunscreens correct total for 6 months after suffered an injury or operation, that in the case of adults and about 18 months in small.