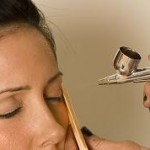 Changes in technology and culture will always carry with them numerous other changes, including those linked to the audiovisual media century. In the field of image (photograph, film or television), the quality has increased, therefore, the requirements also.
For example, the progression from analogue to digital makeup did evolve greatly, which brought a boom in technical silicone based airbrush Airbase, complementing traditional techniques.
Until a few years, because the TV had no picture in high definition, and the cameras and lighting were more precarious, the makeup of the actors and presenters should be too heavy for not showing too shabby appearance.
But today, thanks to the use of cameras in HD (High Definition), it shows all feature on the faces onscreen, the textures of the stains, marks left by the brush or sponge, etc., which requires more polish makeup.
To achieve this goal came the airbrush art innovative, highly effective for its faded finishes that make the makeup is imperceptible. It is also economical because it is done quickly and easily, as only eight drops of the product enough. And it's much more hygienic because with a brush, sponge or your fingers, extend more bacteria and germs in the face.
How it works: when spraying with an airbrush, it atomizes the product by very small particles of makeup, therefore much less visible than when applied traditionally.