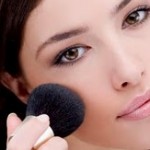 Getting your makeup very natural look requires little details that you must not forget, Check it out!:
Always apply the foundation on your skin thoroughly clean.
If you are going out at night and you brought a blowout and makeup, it is necessary to remove that you have in the face with a cleanser to return to spread a new layer. This will prevent breakouts leaving you or the makeup looks cracked.
Try not to use fingers to apply it, it's best to spread it with a sponge, even if you do it laziness, because it provides better on your skin.
To run fast you can not seal it with translucent powder or spray a bit of mineral water on your face, so set up.
In case you use a powder foundation, wash the sponge applicator that comes in the box, this will also keep you out pimples.
Gain a foundation mineral powder, it will help to cover the imperfections and leave your face radiant.
Finally, do not forget your skin removing makeup every night, so your skin is free of impurities and revitalize during sleep.