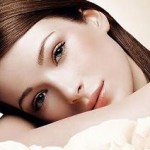 Not knowing what type of skin you have
This is one of the biggest mistakes that many women commit, almost everyone thinks you have dry or oily skin or! The first step you must take to start looking after your skin is to identify what type of skin you have.
No daily hygiene care
No matter who, do not wear makeup, skin gets dirty as if they bear, even more because all the dust and pollution particles adhere directly to your face, hygiene should be in the morning and evening for the rest of your life without missing a day.
Use products that are too aggressive for your skin
Avoid using alcohol and perfume products can damage the skin easily.
Do not use sunscreen
We repeat, one of the biggest mistakes is to not use sunscreen throughout the year, starts buying moisturizers and foundation makeup with sunscreen of at least 15 or higher if your skin is so white it safe!
Easy Solutions
What skin type are you?
This is the most important and sometimes more difficult to identify how is my skin? Almost always have a tendency to say, my skin is very sensitive and my skin is oily…. most of the time we were wrong.
The first thing to know is what kind of skin you have, once identified you will know how to care and what products you need.
Daily hygiene….
Hygiene and daily care are part of the beauty routine you should include in your day to day to have a radiant skin, these are the basic steps:
-> Remove make
-> Skin Tone
-> Hydrate the eye area
-> Moisturize the skin of the face with a light massage
This routine should be done morning and night.
Use sunscreen products…
The sun as well as serious damage occurs to the skin causing fine lines and sunspots, so it is very important that your moisturizer contains sunscreen of at least 15 FPS and 30 FPS in winter in summer, if you can also that your foundation will also have better protection.
Do not forget to protect your neck, chest and hands. And when you protect yourself from direct sunlight's with a high factor. Check with your dermatologist to show you the proper solar factor sun as your skin type and avoiding peak hours of sun exposure.