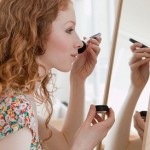 Fragile-looking, uneven texture, and prone to dryness and submit changes (such as pimples, redness, broken capillaries and desquamation), sensitive skin is more prone to react to numerous stimuli.
Among the main causes of this skin type can include genetic predisposition, internal factors (such as poor diet or stress) and external factors (pollution, medications, beauty treatments, etc.)
Sensitive skin does not "cure", i.e. it ceases to be no further specific treatment. However, if you use the appropriate body and facial cosmetics can prevent irritation, reduce excessive reactivity and restore comfort to skin.
For the face and neck.
It is preferable that the remover is removed with water (cream or milk). Apply with gentle strokes to avoid altering the skin. To finish cleaning the toner replaced by thermal water, which calms and clears the skin?
Every day (morning and evening) use a protective moisturizing and soothing. In winter, or if your skin is dry, apply an emulsion evening restorative and nourishing, to strengthen the union of the cells of the epidermis. Another care recommended to use twice a week (or whenever you feel tightness or itching) a calming mask.

For the body.
Avoid showers and hot water baths and the sauna sessions long. Replace your shower gel for a smoother formula (oats, for example) and uses bath oil with natural formulas.
To exfoliate your skin using a natural sponge rather than products or mitt. And do not forget to apply a specific body lotion for sensitive skin, moisturize and relieve that tension.
Hair.
If you feel tightness in the scalp, wash your hair with warm water and use a shampoo that contains sulfates and is not suitable for daily use. Keep skin hydrated by thoroughly penetrate the mask and rinse with water.
In regard to coloring, dyes and permanent oxidation dyes often contain chemicals and ammonia, which can cause stinging or irritation, avoid it using natural dyes that do not include substances (like the new L'Oreal Inoa .)
Makeup
Choose to only specific cosmetic makeup for sensitive skin. These are made with few ingredients and high purity. The formula is simple, the lower the risk of irritation and some assets react with one another.