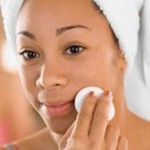 The oily skin is very hardy and can stay young for long. Although associated with adolescents is common in other ages.

This skin type can have a shiny appearance caused by accumulation of secretions in the skin. This makes the pores become clogged, making it more prone to the appearance of pimples and blackheads. Tends to have larger pores.

Oily skin has positive aspects such as their ability to stay hydrated. For this age more slowly and is a strong and resilient skin compared to other types of skin.

Care for oily or greasy
1 – For this type of skin cleansing is very important because it tends to hold more dirt.

2 – For the skin you can use skin products for oily skin or sensitive skin. Sometimes oily skin products are very hard on the skin but there are moderates. It should be noted that in products for skin care and makeup.

3 – strong cleansing creams and stimulate the sebaceous glands which causes the skin more oily. The soaps and other products that contain too much alcohol should be avoided as these cause skin irritation and dryness.

Beauty routine for oily skin
1 – Preferably clean the skin twice a day: once in the morning and the second time at night.

2 – Use moisturizer, eye cream and sunscreen in the morning.

Note: Not all require oily skin moisturizer. If you live in moist and very young (under 25) may not be needed or not needed moisturizer in the morning.

3 – In the evenings it is important to remove makeup before bed.

4 – Use moisturizer and eye cream.

5 – If you are prone to pimples and blackheads can use an acne product benzoic peroxide at low concentrations (less than 5%) in places prone to pimples. This is placed before the moisturizer.