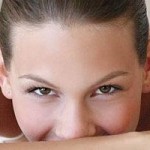 The open pores is a common evil in all skin types to avoid Realize we recommend a thorough cleaning of skin every 2 months and keep the skin moisturized with creams always oily.

At home you can realize yourself a steam-based cleaning every 2 weeks, fill a large pan with mint leaves and let it steam clean your pores.

Stay away from makeup oil-based or clog your pores, it is best to use nothing in the face or facial uses special products for high fat, you'll see that its texture is very light and soft.

Clean your skin with lotions for oily skin and always remove it with a sponge with hot water (for your skin tolerant).

Realize masks homemade or bought but always for oily skin, also every two weeks.
And remember the more you know you are caring for your skin and dermatologist, be careful if you go to a cosmetic house, see if you really know who professionals are and know how to take good care of the skin.