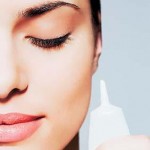 The serums are lotions with a high concentration of active ingredients that enhance the fighting skin problems such as dehydration, aging, redness…
They are usually aqueous formulas that quickly absoven and more concentrated than usual creams. Recommended for all skin types, including fat, since, as have a smooth texture offers a refreshing sensation.
Depending on the properties that provide different kinds of serums distinguish:
- Wrinkles: regenerate skin and restores elasticity.
- Moisturizers: they are highly recommended, especially if they contain a high concentration of hyaluronic acid.
- Energizers: fight the signs of skin fatigue by providing vitamins, minerals and antioxidants.
- Tension: combat sagging skin and have a lifting effect.
The question that usually arises with the serums knows when to apply them. Bear in mind that the serum will not replace your usual cream or sunscreen. Here is a guide all the steps you can take to the serum copper full effect on your skin:
- Apply the serum after cleansing with cleansing milk and toner. Then it's time to put the serum and then the cream you use.
- Because it is highly concentrated formulas, you have to 4 or 5 drops of serum.
- From age 30, you must use the serum at least once a day, and after 40, you will need to apply it morning and night.