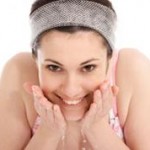 If like me you suffer from an oily skin and I can not stand the look, check out these tips fundamental
Keep a daily cleaning routine based on cold water and soap or cleansing gel specific. Wash your face with these products at least 2 times a day.
Under no circumstances can forget to remove make-up to sleep. The consequences are catastrophic.
Realize a gentle exfoliation at least twice a week, and be sure to close the pores at the end to prevent further environmental waste entering the skin.
With a good tonic without alcohol you can control the brightness of your face, helping you to balance the pH of the skin and cooling it.
Keep in mind that oily skin is dehydrated easily, so you need to hydrate constantly. Use gels or lotions good filter and do not contain oil to protect skin from the sun.
And finally, when makeup prevents heavy and creamy products. It is best to opt for mattifying bases, which absorb excess oil on the skin keeping it wonderful all day.
If you follow these tips you will forget the oily skin.