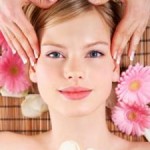 For all women who are carrying out anti-wrinkle treatment, or those who want to avoid them in advance, I'm bringing you some exercises to prolong your arrival and keep your face smooth and soft but longer.


To do so is essential to work the area of the cheek and eyelids.

For part of the cheek, the exercise should be done is to open and close your mouth slowly, as if he were pronouncing the vowels A and U. It is important to perform 10 repetitions of each day.

For lower eyelids, there is nothing better to press our hands against his temples and gently pull the skin up, while trying to close your eyes by force.

Finally, for working the lower eyelids, we must put our head back, placed his fingers on the eyelids (closed, of course) e try to open eyes.

Do you dare to try?