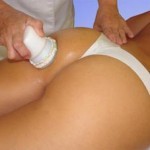 Surely, many of us suffer from cellulite, so today I present one of the latest treatments that promises rid of cellulite.

The radio is the application of a short wave frequency on a point located allowing the application of heat to about 20-30 mm depth of the skin, heating the inside of the fat layer without damaging the surface layer of the skin . That warming facilitates subcutaneous lymphatic drainage which helps reduce the amount of fluids and toxins that adhere to this layer of skin.

One of the most important applications of radiofrequency is that the subcutaneous application of heat helps in the formation of new collagen, giving more strength to the area. To achieve greater success in the treatment we must take several sessions for a period of approximately 45 minutes. The cost of this treatment depends on the area where they apply, usually around 150 € per session.

The possible side effects are redness of the area and / or the formation of an edema that disappears with the passing hours. This can vary from person to person; also can not give you the sun in the treated area within 48 hours.