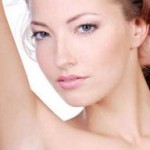 The stains in the armpits or armpits are annoying and need to know the cause to eliminate more easily. These are the most common causes of darkened or stained armpits:

Shave
Shaving armpits or cut and produce skin irritation making it more susceptible to color changes. But another reason is that sometimes the hair is cut a little because it is impossible to cut it completely and this creates a dark shadow and it seems that the skin is spotted when in fact it is not.

Irritation by ingredients in deodorants and antiperspirants
Some ingredients in these products, most of all the fragrance, it can cause skin blemishes. Avoid deodorants or antiperspirants with very fragrant.

Hyperpigmentation
Cause spots like the spots on the rest of the skin but not often. If there are stains in the armpits or armpits hyperpigmentation usually is not but is due to the following causes:

Acanthosis nigricans
It is a skin condition in which patches develop in places where the skin folds such as armpits and groin. It is more common in people of African or less clear skins. It is generally but may be due to genetic diseases and some medicines.

Overweight people are more likely to have it. It may be related to imbalances of insulin or other hormonal disorders. Depending on its cause is treatment, but it is a harmless condition.

Accumulation of dead cells
Sometimes the arms are stained by the accumulation of dead cells and exfoliate often enough to regain their color.