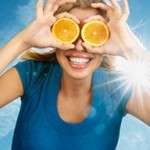 When we think of sun protection products to protect think our skin as guards, filters or sunscreens but there are other things we can do.

The sun damages the skin causing wrinkles, age spots, premature aging and so on. It also causes damage to gray hair and eyes that is necessary to protect us. Here are some recommendations:

Avoid the sun
This recommendation is most obvious and important. Avoid strong sunlight in hours if possible.

Use sunglasses
People living in sunny and not wear glasses are more likely to suffer from cataracts.

Use hats or caps
To protect your hair, eyes and face. They are also an accessory to look pretty.

Polarizes your car
If you live in a place with plenty of sunshine this will help

Avoid getting
The sun burned are burned as those caused by fire or anything hot on the skin. There is no reason to burn on the beach or pools.

Dark colors
Light colors and lightweight fabrics let in sunlight. There are now clothing that offers protection from the sun but if you have any burning, irritation or skin need to protect your body uses these thick clothing or special clothing if you are exposed to the sun.

Blotchy or irritated skin
If you have any irritation or spots on the skin is even more important to protect because they are more easily damaged or stains become darker.

Eating well
The fruit and vegetable intake protects us from the sun because they contain vitamins and nutrients that help the body to minimize the damage caused by the sun.